MARYLY CULPEPPER, flutist, is currently the Director and Producer of the Fontenay Chamber Players. She received her Doctoral Degree from the USC School of Music, a Masters of Music from Yale University and a Bachelor of Arts from Dartmouth College. She is currently an Adjunct Professor of Flute and Music at the New Canaan Country School in Connecticut and principal flute of the Connecticut River Valley Orchestra. Her teachers have included Julius Baker, Jim Walker and Tom Nyfenger. She is a former principal flute with the Portugal Philharmonic, and has played with the New World Symphony. Accepted to the Spoleto Festival, she won a scholarship to the Chigiana Music Academy in Italy. Ms. Culpepper was a finalist in the National General Motors Seventeen Magazine Concerto Competition and semi-finalist in the Pepsi Cola Competition. She is the principal flute of the Hat City Opera and an active freelancer. She maintains an extensive teaching schedule and performs with the Bridgeport Symphony and New Rochelle Opera.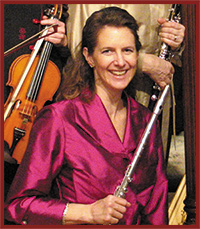 WENDY KERNER, harpist, has appeared in concert throughout America, performed at the World Harp Congress in Seattle, and Paris, France, played for Queen Sirikit of Thailand, and for former First Lady Hillary Clinton. Ms. Kerner was presented in her New York Debut in Carnegie Recital Hall as a winner of the Artists International Chamber Music Competition. She also won the American Harp Society's Concert Artist Auditions and Silver Prize in the National Flute Assoc. Chamber Music Competition. Ms. Kerner is the principal harpist in The Bridgeport, Norwalk and Ridgefield Symphonies. She began the harp at seven and received her Bachelor and Master of Music Degrees at The Juilliard School. Her CD Sounds of the Seine with The Glorian Duo is on Delos, and has met with critical acclaim. She maintains an active teaching studio in New Canaan, CT.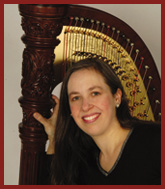 KATHRYN TAYLOR, clarinetist, is a member of the Connecticut Grand Opera, Stamford Chamber Orchestra, and Bridgeport Symphony. Ms. Taylor performs regularly with the New Haven, Hartford and Stamford Symphonies and is a founding member of the nationally acclaimed, Grammy nominated Borealis Wind Quintet, with whom she tours and records. Ms. Taylor has been a featured artist at chamber music festivals including the Newport Music Festival and the Windham, NY Festival and the Aspen Music Festival in Colorado. She is an active teacher and clinician and gives master classes throughout the country at high schools, colleges and universities. An alumna of the Juilliard School, Ms. Taylor toured Europe in 2001 with the American Sinfonietta as principal clarinet and subs in the orchestra of Beauty and the Beast on Broadway.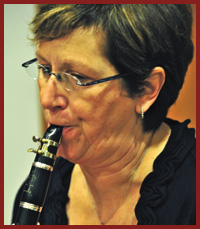 Cellist KATHERINE CHERBAS enjoys a multifaceted freelance career in New York City. As an orchestral player, she frequently performs in the cello sections of the New York Philharmonic, New Jersey Symphony, Orchestra of St. Luke's, and American Symphony Orchestra. Her interests as a chamber musician range from Baroque continuo playing to 21st century works. Her world-premiere recording of Milton Babbitt's monumental String Quartet No. 6 with the Milton Quartet received widespread acclaim. Ms. Cherbas has recorded for Tzadik, Naxos, Delos, Sony, and Albany Records and has been heard on numerous radio and television broadcasts. She frequently collaborates with non-Classical artists and has shared the stage with Sir Paul McCartney and Donna Summer, among others. A lifelong fan of Broadway musicals, she has played in the orchestras of a dozen shows including Phantom of the Opera and Wicked. In addition to her work as a performer, Ms. Cherbas is a devoted cello teacher, wife, and mother.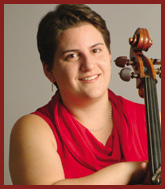 Violinist UNA TONE enjoys a career as a soloist, chamber musician and orchestral player internationally. Born in Riga (Latvia) in the family of a pianist and a ballet dancer, Una began playing the violin at the age of four. Her first solo appearances with a symphony orchestra performing Beethoven's Violin concerto, took place while still at Special School of Music of Emils Darzins. In NYC Una performs with Radio City Orchestra, NY Pops, Opera Orchestra of New York, American Ballet Theater Orchestra among others. She is a concertmaster of Metro Chamber Orchestra, NY Symphonic Ensemble, New Choral Society, Fontenay Chamber Players, Vali Entertainment and she regularly collaborates with the leading musicians in a variety of genres and styles: she has toured with U2, Andrea Bocelli, Jose Carreras, Savion Glover, Il Divo, Boyz II Men, Brian Wilson etc. Una has played in many Broadway shows including Bridges of Madison county, Lion King, Kinky Boots, Pippin, Young Frankenstein, The Producers, Wicked, Ragtime and is looking forward to being a concertmaster in the upcoming Broadway Show "On The Town". Una also records with many artists such as Carly Simon, Diana Krall, Tony Bennett and has often appeared on radio and TV: David Letterman Show, Good Morning America, Today's Show, Conan O'Brian, The View.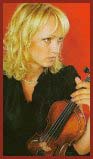 A Juilliard graduate with a Masters Degree on the viola, LIUH-WEN TING played with the Meridian Quartet and has collaborated most recently with the Manhattan String Quartet, Ensemble l'art pour l'art, and the Cassatt String Quartet. Her past collaborations include musicians Kenneth Cooper, Bernard Greenhouse, Paula Robison, soprano Kathleen Battle, and the Lincoln Center Chamber Music Society. Ms. Ting is on the staff of the Composers Conference at Wellesley College. She has performed at international festivals such as The Prague Spring Music Festival, Ostrava New Music Days, The Warsaw Autumn Music Festival. Her solo performance of Morton Feldman's Viola in My Life with the Janacek Symphony Orchestra was praised by The Czech Music 2001 as "an extraordinary experience". Ms. Ting has recorded chamber music for Deutsche Grammophon, Mode, and Capstone Records.
Praised for her versatility and creativity, American violist Renate Falkner enjoys an active career as an orchestral and chamber musician, performing across the U.S. and abroad. Equally at home on both modern and baroque viola, she is a former member of the New Haven Symphony Orchestra and performs regularly with groups such as Boston Baroque, the Baltimore Symphony Orchestra, Orchestra New England, and Tafelmusik Baroque Orchestra. In Florida, she appears regularly with the Jacksonville Symphony and the Naples Philharmonic, as well as with Opera Tampa and the St. Petersburg Opera Company. As a chamber musician, she frequently collaborates with the Fontenay Chamber Players in NY, and the Westminster Trio in Baltimore, and Trio Florida. An accomplished educator, Dr. Falkner received her undergraduate training at the Oberlin College and Conservatory, earning degrees in both viola and Ancient Greek, studying with Roland Vamos. She completed her graduate studies at the Yale School of Music as a scholarship student of the late violist Jesse Levine.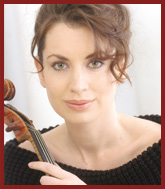 A concert artist in both the violin and the viola, LUIS CASAL is currently concertmaster of the Camerata Washington Heights, principal second violin of the Música de Cámara Chamber Orchestra, principal violist of the Metro Chamber Orchestra, violist of the Paramount Chamber Players, and violist of the Ava String Quartet. One of Panama's leading artists, recent performances have included chamber music and solo appearances in Carnegie Hall's Weill Hall, Merkin Hall, the Millennium Stage at the Kennedy Center, the Hall of the Americas at the Organization of American States, the Bruno Walter Auditorium, and the Metropolitan Museum of Art. When he is not performing, practicing, playing soccer or dancing salsa, he will be found teaching. He is violin/viola instructor for the Brooklyn Conservatory of Music and the Washington Heights Community Conservatory.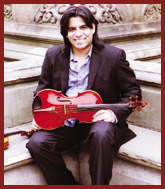 Violinist/composer LYNN BECHTOLD has appeared in recital throughout North America and Europe, and has premiered works by composers such as Gloria Coates, George Crumb, John Harbison, Alvin Lucier, and Morton Subotnick. As a member of groups including Zentripetal Duo, Bleecker StQ, Miolina, SEM, and the NY Symphonic Ensemble, she has performed around the world, and been broadcast on various TV and radio, including 30 Rock, The CBS Morning Show, and Good Day NY. For many years, she performed as a member of Grammy-nominated rock/opera band East Village Opera Company and with CT's Lumina String Quartet. Other programs have been with Absolute Ensemble, Catalyst Dance, Dance Theatre of Harlem, Darcy James Argue's Secret Society Band, DJ Spooky, North/South Consonance, Parsons Dance, Paul Taylor, 10 Hairy Legs, VisionIntoArt, and Pablo Ziegler. She's also played with entertainers such as Boyz II Men, Willie Colon, Sheryl Crow, Escort, Roberta Flack, Left Banke, Smokey Robinson, SMAP, and Donna Summer. She holds degrees from Tufts University, New England Conservatory, and Mannes-The New School for Music.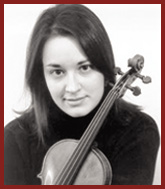 Rieko Kawabata, violinist made her solo debut with the Tokyo Symphony Orchestra at the age of 10. After studying at the Toho-Gakuen School of Music, Ms. Kawabata moved to America and appeared as a soloist with various orchestras including the Nova Vista Symphony Orchestra, the Palo Alto Philharmonic Orchestra, and the Philharmonia Orchestra which was broadcast on WGUC-FM. Among her numerous awards and competition prizes, she is most fond of being granted the special honor of performing on a Guarneri del Gesu violin formerly owned by Jascha Heifetz at the California Palace of the Legion of Honor in San Francisco. Ms. Kawabata is a founding member of the Klang String Quartet and a director of the Amor Ensemble. Not only active in the classical field, she has performed in commercial films, movies and Broadway musicals throughout the US. Some of her work includes performing in Warner Brothers pictures, ESPN films, as well as a commercial film for the San Francisco International Airport. In addition, she has performed with bands and singers like the George Gee Swing Orchestra, Josh Groban, Boys II Men, Sigur Ros, Gloria Estefan and Miami Sound Machine, Ray Chew and Frank Sinatra Jr.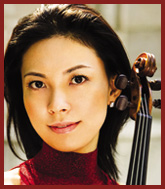 DENISE STILLWELL, violinist, is a versatile musician who has performed throughout the United States, South America, Europe, Asia, and Great Britain. She has held positions in the Santa Fe Opera and Palm Beach Opera Orchestras and currently performs regularly on Broadway, at Radio City Music Hall, and in several orchestras in the Tri-State area. She also plays with Ensemble Tremblay, a New Jersey and Maine based chamber music ensemble. Denise has recorded, performed, and toured with such artists as Barbra Streisand, Don Henley, Placido Domingo, and Ray Charles, among others. Ms. Stillwell has appeared on "The View", "Live With Regis and Kelly", in MTV videos, and can be heard in commercials and film soundtracks. She has recorded for Sony, Epic Records, Warner Music, Yellow Sound Label, and Polygram Records. Ms. Stillwell holds Bachelor and Master of Music degrees from The Juilliard School.